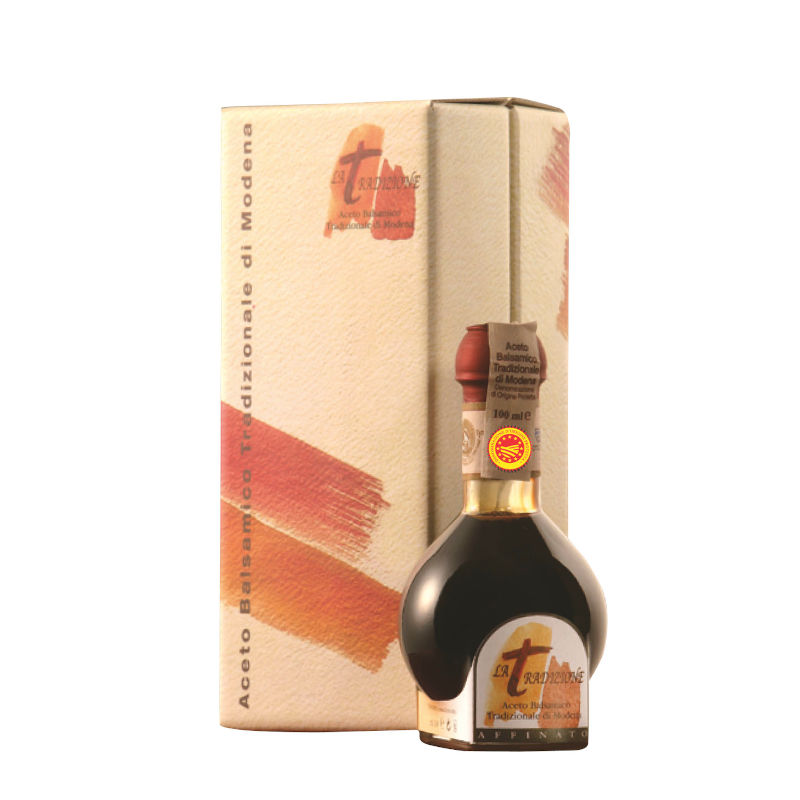 Traditional Balsamic Vinegar of Modena P.D.O.
Producer and distributor: Acetaia La Tradizione Soc. Coop. Stradello del Fiume 23; 41123 Modena, Italy


Bottler: Consorzio Tutela A.B.T.M. Viale Virgilio 55; 41123 Modena, Italy


Third party certification body: Kiwa Cermet, appointed by the ministry for agricultural policies


Name: Traditional Balsamic Vinegar of Modena, P.D.O. Protected Designation of Origin


Production regulations: it provides for two dates (> 12 years red capsule and > 25 years gold capsule), no other dates are allowed, bottling allowed only in a center authorized by MIPAF and controlled by the same certification body "Kiwa Cermet", before bottling, the product must pass a severe organoleptic test carried out by a commission of expert tasters who certify that it has exceeded the minimum threshold envisaged by the specification.
Ingredients: grape must only (cooked must from Trebbiano and Lambrusco grapes)
Country of origin: province of Modena
Aging: over 12 years
Bottle and Content: single institutional container allowed by 100ml, and of the same shape for all producers, spherical with rectangular base, designed by the designer Giorgetto Giugiaro, the ABTM cannot be contained in another bottle with a shape and or capacity different from the institutional one.
Alcohol content: 0
Shelf life: 10 years
Use: Very versatile product, with a marked young acidity, balsamic characteristics still in the ripening phase, to be used exclusively cold (at the end of cooking) to flavor and embellish dishes, such as parmesan, vegetables , fried, meat and fish.
Contacts
Acetaia la Tradizione
Cooperativa d'Arte Balsamica
Stradello Fiume, 23
41123 Modena - Italia
Tel. +39.059.840087 - Fax +39.059.840665
P.iva 02756330367

acetaialatradizione@gmail.com
Secure payment with
Shipment free for order above 300€.
©2023 Acetaia La Tradizione - All rights reserver